In My Shoes ft. Andres Jimenez
[one_half]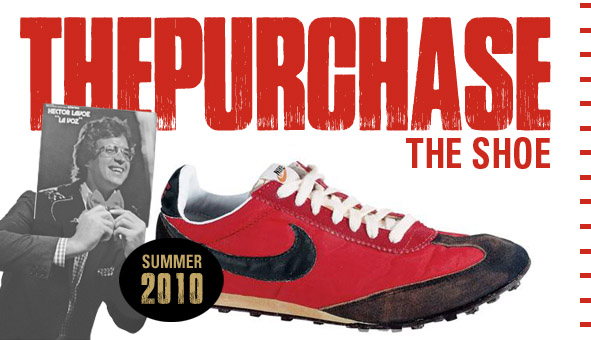 [/one_half]
[one_half_last]Back in 2010 NIKE made a huge push on all of their vintage products and I felt the need to have a pair. I loved the silhouette, the fit, how light they were in my hands. The soles were so narrow yet they still gave me support. They also had a nice vintage patina on them, which made them look even better.

[/one_half_last]
[one_third]From a very young age, clothes and sneakers have been important to me. What I choose to wear on any given day will always let you know how I feel. The price tags never really mattered to me, it was more so about quality, construction and what the colors or brand represented. In regards to my closet, I always refer back to "Classics" or "Basics" when building my wardrobe.
In the same year I purchased these kicks, we (Tritonic – A Creative Agency) won another ADCNJ Award and I participated in a fashion blog called Hello Mr. Daily specifically as Mr. Friday.
[/one_third]
[two_third_last]
[/two_third_last]
[one_half]

[/one_half]
[one_half_last]Later in 2010 I did some traveling and my first escape was to Montreal. A mini get-away with a few of my Hello Mr. Daily friends, this trip was strictly to party and explore. The following month I went to Chicago for my creative agency Tritonic. At this time I was the creative director and principal of the agency, we were helping our client The James Hotel in Chicago and NYC. In November I flew down to Mexico to participate in my sister's wedding, it was such a beautiful experience to be down there with friends and family. And finally my last stop was home, Colombia to be exact, visiting my family after working hard all year. It was truly relaxing to be back in the motherland with no worries at all.
[/one_half_last]
At this point in my career, it was important for me to remain excited and fulfilled in everything I did. So I matched my hard work with hard play, by exploring the world, because I'm aware that staying fresh on what's new is important to staying creative. I also felt the need to try working on something new, something to balance myself. Having Tritonic was fun and surrounded me with people I enjoyed. But I needed another outlet, and I found that in digging and spinning music. Throughout it all, I kept traveling to places like Boston, Montreal and even London.
[one_half]DJing and Records went from a hobby to a passion, which developed into a Vinyl Culture Collective called Open Crates. We're now approaching our second vinyl release with Pat Van Dyke being our first and DJ Center coming out in April of this year.
[/one_half]
[one_half_last]


[/one_half_last]
Since I've had these sneakers, I've closed up one creative agency, joined another agency as a joint venture, left and started one all over again. In 4 years, I've put thousands of miles on these sneakers. I've been blessed to have traveled all over North America, South America, the Caribbean, even hit the UK with them. They've been with me during hard times but also at my feet for moments I'll cherish the rest of my life.