Urban Exploring: Mott Street Cycles (Special Edition)
In this special edition of Urban Exploring, Iquan takes Guru to pick up his bike from Mott Street Cycles in China Town NYC. The two explore the shop and then cruise through the lower east side and Manhattan Bridge.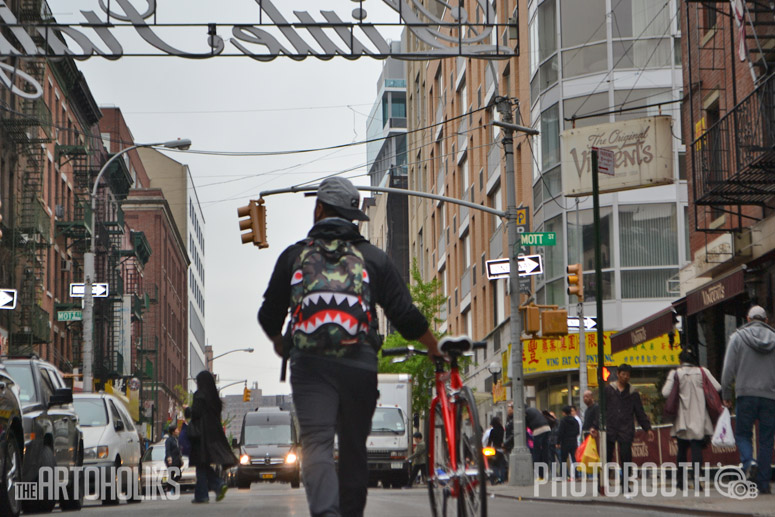 It all started a week prior to this journey when Iquan discovered Mott Street Cycles and immediately brought his bike from the unique and well branded bike shop. While heading back to Jersey Iquan texted Guru about the discovery and sent a few photos of the bicycle, Guru instantly said… "I want one". The very next day, the two headed over to China Town to order Guru's custom bike. It was a simple process, walk in, point at what you want, tell them the colors and what accessories then within 5 minutes your bike is ordered. Guru color choice was based off Iquan's color scheme which is the color scheme of the Artoholiks overall branding.
In a matter of days, Guru got the call from MSC to pick up his brand new means of transportation, the Urban Exploring duo got there within an hour and began they're exploration around downtown Manhattan. And just like that they created another story for Artoholiks.com, enjoy the video above and check out more photos in the photobooth. Deuces!
THE DISCOVERIES

MOTT STREET CYCLES
MSC Customs is a local bike and apparel company based in China Town Manhattan. Specializing in assembling fine personalized bicycles at a reasonable price, built with a commuters mindset. Learn More[/one_third]