Happy Hour with Kiakoma Olski Roberts
[one_half]OVERVIEW
In our third installment of the Happy Hour series, The Artoholiks Public Works crew followed Kiakoma Olski Roberts from Yetu Urithi for a few days to see what its like to transform from an educator to a fashion designer to just a normal creative that enjoys what the world has to offer. From fashion to supporting his peers, Mr. Roberts shows us how all of the above works hand in hand towards his legacy through his brand. Unlike our previous Happy Hour sessions, Kiakoma treated our crew like family by inviting us into his home while we captured intimate sessions with his close friends and even allowed us to film him eat and shop with the goal of seeing his creative lifestyle.
In this two minute journey, Kiakoma shares his secret to how he makes his life dynamic, with his belief in the world being too big to just be one thing. Now enjoy Kiakoma Olski's Happy Hour with The Artoholiks!
[/one_half]
[one_half_last]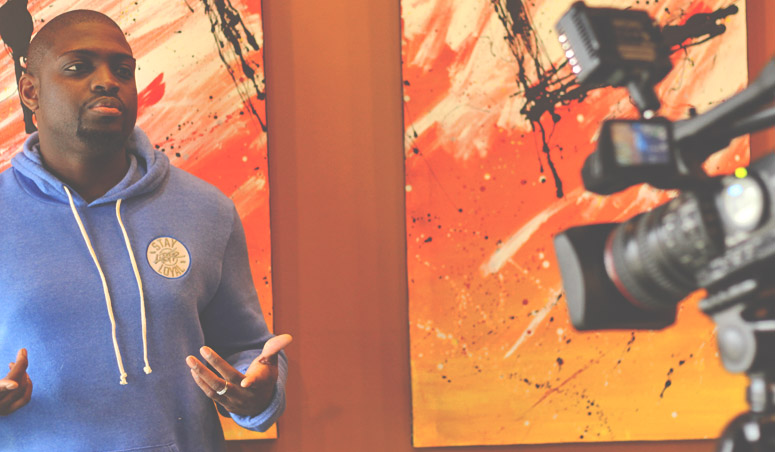 [/one_half_last]
[one_fourth]
[/one_fourth]
[one_fourth]
[/one_fourth]
[one_fourth]
[/one_fourth]
[one_fourth_last]
[/one_fourth_last]
[one_third]
QUESTIONS FROM THE CREW
Why did you get into the accessory business?
I've always liked backpacks and accessories. I think accessories breathe life into an outfit, they really complete your look. With that being said, I wanted to make accessories that were high quality & luxurious, but still consisted of an edgy street vibe.
What brands inspire you outside of LV & Gucci?
Just to name a few… Hermes, Goyard, Brunello Cucinelli, BAPE, Billionaire Boys Club, ICECREAM, Stussy, Supreme, American Classic Ralph Lauren Rugby and Brooklyn Circus. I love the dynamic of mixing high end with premium.
What music are you currently listening to?
(Punk rock) Falloutboy, (Futuristic Funk) Francis and the Lights, (90's Hardcore Hip-Hop) Outkast, Jay-z. M.O.P, Mobb Deep, Nas, UGK, and Snoop & Dre. The only new Hip-Hop artists I listen to are from the G.O.O.D Music Camp and MGK.
You mentioned that you love to travel, what's your favorite US City and why?
Las Vegas! It's such a beautiful city during the day and night and there is always something to do. I would even go as far as saying its a better New York minus the fashion scene.
What did the acronym in Wierdoz O.W.N.L.I stand for?
Our World Never Loses Intensity.
Why did the Autobiography of Malcolm X changed your life?
I related to it because it showed the evolution of a man from a criminal to self educated pillar of a community. While growing up, family members would express their low expectations of me because I was always in trouble and most of my cousins were locked up. In their minds, I would be next and Malcolm inspired me to prove them wrong.
Lastly, how was it to work with The Artoholiks?
What would you tell people about your experience? It was a great experience, I thoroughly enjoyed expressing what my personal and professional brand has to offer. Being able to collaborate and share my testimony to inspire others to create and reach for higher levels was priceless.
[/one_third]
[two_third_last]KOR PHOTOBOOTH
[rev_slider HappyHourwKiakomaOlskiRoberts]

[/two_third_last]
[one_fourth]
[/one_fourth]
[one_fourth]
[/one_fourth]
[one_fourth]
[/one_fourth]
[one_fourth_last]
[/one_fourth_last]
PROPS


Written / Edited – Iquan Worthington, Kiakoma Olski Roberts & MrsAleeshaW
Video – Directed Shot & Edited – Iquan Worthington & The Artoholiks Public Works
Video Music: Dela – The Robert The Robert Glasper Beat Tape – Dizzy
Photography: Iquan Worthington & The Artoholiks Public Works
Shop: Yetu Urithi