Urban Exploring: Jake x GoPro in NYC
I was a little pissed that I had to give up an entire day just to take my son Jacob to the dentist all the ways in midtown NYC. See my wife and I go there and absolutely love our dentist, he offered to take a look at Jacob's problem even though he doesn't work with kids. Anyway living in Hillside, New Jersey means that we would have had leave New Jersey at 10:30a in order to make it there by 12p. Again, I wasn't happy with the thought of messing damn near an entire day of work just for an hour dentist appointment. But just like everything else in my life, I find a way to turn the bad into good and I did exactly that by turning Jacob's visit to an NYC dentist into an Urban Exploring Journey.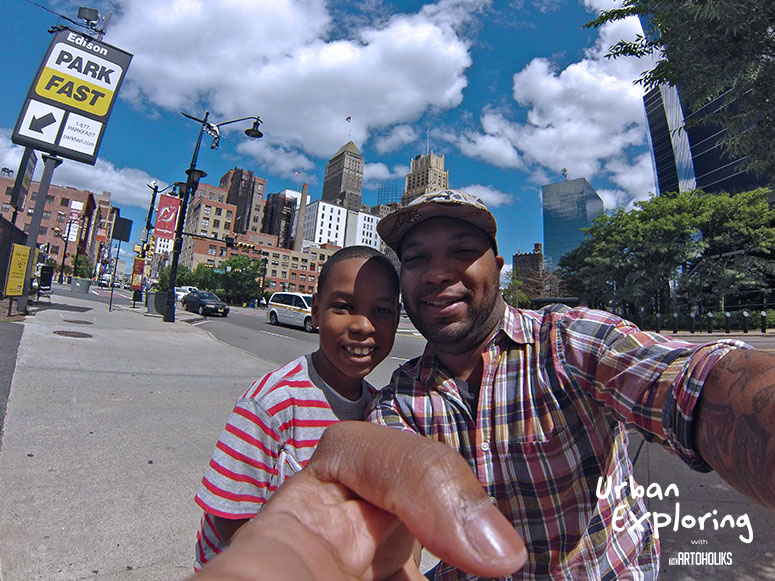 We parked the car in Newark and as we walked to Penn Station I saw the perfect photo opportunity and that's how the story started. During the train ride, Jacob asked… "Why are we riding the NJ TRANSIT train instead of the PATH train" I then explained… Because we're headed to midtown and NJ TRANSIT is faster than the PATH when heading to midtown. Then, following question was…"Dad, when I'm 33 years how old will you and mom be?" I answered… Mom and I are twenty five years older than you and in school you're currently learning how to add nickels, dimes and quarters. So… Add two dimes and a nickel to 33 and that's how you'll forever get your answer. He goes… "Ahhh 33 plus a dime equals 43, add another dime to get 53 and then a nickel to get 58. Y'all will be 58 when I'm 33." We played that game for a few more minutes. I thought that was fun and made the train ride easier.
Now that we're here in the big city, we got the perfect opportunity to grab another awesome picture. The Empire State Building is behind us and the essence of Madison Square Garden is to the side.
Unfortunately the dentist office was too dull and too serious for a photo op, but fire me for not taking a pic anyway.
Because I'm the dad there was absolutely no way I could handle the project alone of bringing the kid to NYC yet alone the dentist without any supervision. So super mom came to the rescue, well actually she only works a few blocks away so she came just to check on her boys… Isn't she a beauty?
But just like in our bedroom, she couldn't stay long, so Jake and I were once again on our own, I decided to feed my kid by taking him somewhere unique and fun.
Check out where we ended up, Shake Shake! Heard of it? Nah? Well, here's a new discovery for you! Word on the street is that this place has some of the best burgers around and Jake and I was determined to test them out even if we had to wait in this long line.
Finally, after waiting for a half hour, we got our food. But that didn't mean we were in the clear, we still had to find a seat. When super mom isn't around super dad steps up to the plate, and with that being said I got us a seat by utilizing my pretty smile while hugging my beautiful son and damn right someone offered HIM a seat.
Time to eat, I got the burger and he got a hot dog. We shared fries while slurping down vanilla and strawberry milkshakes. And if that's not fat enough, we got a COKE just to ensure that all the goodness is flushed all the way down. Yum!
Do we look full enough?
So we chewed up an entire hour at Shake Shack, which was perfect because we had to be at mom's office by 2, we had about 45 more minutes to burn. We started on 44th and 8th and had to troop to 41st and Broadway. Now to you New Yorkers you might say "that ain't far" but try walking with a lazy seven year old, however I had a plan! I knew he never been to Times Square, which was in the near area and with that came more photo opportunities…
My super dad powers also reminded me of the dressed up characters that pose up out here looking for tips, so I decided to take a walk in the opposite direction, felt it would be worth it…
What do you think?
Fun is over, let's get mom…
We made it, however she's busy so we'll wait…
Finally, we recused super mom, thank god for summer Fridays she got off at two and now we head back to Jersey. Jake is tired, but he's with his favorite super hero's so he can rest his head easy.
Moral of the story… Sometimes we can't control everything, so instead of soaking in disappointment or frowning down on change you should always try to make the best out of the situation. Today my kid is happy and got to explore parts of New York that he never got to see. And if that's not enough, none of my clients called, emailed or checked for me today, so you can say that it was a much need QT dad and son day planned by the universe. It was a WIN WIN WIN! I got quality time with my kid, he enjoyed a day off from school and The Artoholiks got another story out of me. Hope you enjoyed!