Following the DJ: Madlib & Freddie Gibbs
THE RESEARCH

[one_third]There's a great story told by the legendary Nile Rodgers, American musician & producer, known for producing hits for artists like Duran Duran, Diana Ross, David Bowie and Madonna, as well as being a founding member of disco/funk band Chic – where he talks about handing a copy of Chic's very first single to a DJ who was spinning at Studio 54 in NYC. The DJ liked it so much after one listen that he immediately played it for the people on the dance floor and that's essentially how Chic started their success. Watch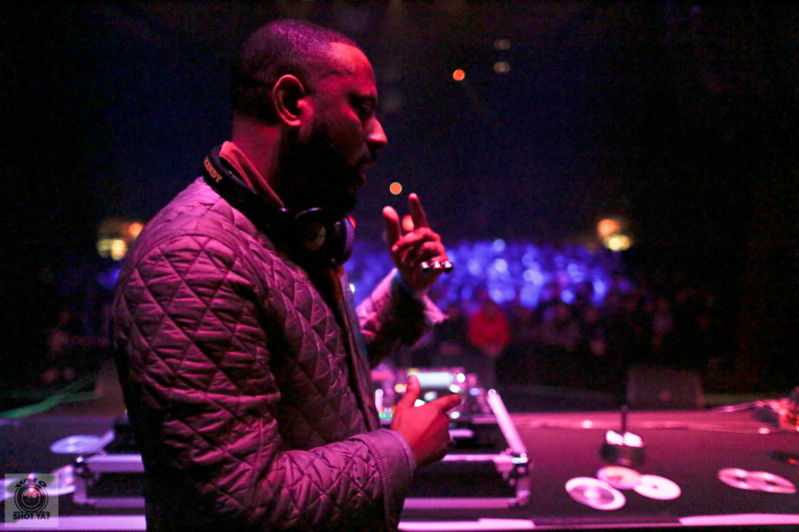 PHOTO PROPS: WHO SHOT YA?
[/one_third]
[one_third]This post is dedicated to the DJ, the music curator to the masses, the original source. Back in the day, if you wanted your song to get heard, you had to give a copy to your local DJ and hope they'd play it, or you could pay a lot of money to the radio station and guarantee rotation (this still goes on today.) When looking for new music I tend to stick to record labels, online blogs and other trusted sources that I like. Freddie Gibbs & Madlib's album, Piñata, I found through LA-based record label Stones Throw and online news blog Rappcats.com, a website dedicated to promoting three of my favorite artists: J Dilla, Madlib and MF Doom.
PHOTO PROPS: RAPPCATS.COM[/one_third]
[one_third_last]
Madlib has described himself as a DJ first, producer second and MC last. If you're wondering how this record relates to following a DJ, Madlib is the DJ and he is the reason why I got hip to this music in the first place. Read more about Madlib here

PHOTO PROPS: ELECTRONIC BEATS MAG
[/one_third_last]
THE DISCOVERY


The Freddie Gibbs and Madlib collab started in late 2011 with the release of their debut EP Thuggin'. Rappcats.com along with Madlib's own record label, Madlib Invazion via Stones Throw, teamed up for the release of all three EP's as well as the group's full-length LP, Piñata, which was released earlier this year – an artist release schedule spanning the course of three years.
As a record collector, following a record release like this is one of the most rewarding experiences for a music fan. Back in 2011 when I first purchased the Thuggin' EP, I knew it was going to be an immediate classic in the eyes of music aficionados and hip-hop heads.
I kept my eyes and ears open for more info and news about what would come next from the group. As each year passed and a new EP was released, clocking in at just over 15 minutes front to back, I experienced a sense of anticipation and appreciation for the music.
November 18, 2011 – Los Angeles based DJ & producer, Madlib, along with Gary, Indiana based rapper, Freddie Gibbs, announce their first collaborative EP entitled Thuggin', live at the Madlib Medicine Show in San Francisco. All five hundred vinyl copies of the EP were sold out that evening.
[one_half]


November 21, 2011 – Thuggin'
This album sparked a sense of awe and appreciation from the hip-hop community. There is something really profound about Freddie Gibbs's dark delivery over Madlib's excellent use of soul sampling and worldly genres. Like a lot of Madlib's music from recent years, the choice of drums and percussion used to create back beat is something cinematic and crate digger worthy. The content presented here is reminiscent of early west coast gangster rap.

September 24, 2013 – Deeper
Deeper was the last of the EP's and would eventually become the lead single for the group's full-length album. Lyrically there had not been a song reflecting the realities of incarceration and outside drama since Nas's 1994 release, "One Love."


PHOTO PROPS: PETER BESTE

PHOTO PROPS: WHO SHOT YA?
[/one_half]
[one_half_last]


June 26, 2012 – Shame
Seven months after the release of Thuggin' came the Shame EP. This only proved the duo's chemistry to be stronger and left myself and critics wanting more. Jon Hadusek of Consequence of Sound graded the EP with a "C-" stating: "To call Shame an EP is misleading, it's only two tracks – 'Shame' and 'Terrorist' – with instrumental and acapella versions, as well as some tacked on 'bonus beats.' These songs are strong, however, and make the prospect of a proper debut album from Gibbs that much more exciting. If he wants a legacy, he needs to release a full-length."

March 18, 2014 – Piñata LP
(originally titled Cocaine Piñata)
The long awaited debut full-length album, Piñata, that music fans and hip-hop heads had been eagerly anticipating for over three years was finally released. All the hype and expectation had been full-filled. After immediate release, large music blogs like Pitchfork and Spin were already nominating it to be Rap Album of the Year. I had already made my prediction back in December of 2013 when I tweeted this and got a response from Now Again Records founder and former Stones Throw label manager, Eothen "Egon" Alapatt. Check it!
May 28, 2014 – Piñata Beats
(Freddie Gibbs Instrumentals)
The latest release, Piñata Beats, is the full-length instrumental version of the album. Essential to most DJ's is the instrumental version of the song. This version is crucial to your mix. Whether you're a DJ making live remixes or a radio disc jockey playing an instrumental version of a hit song in the background, the instrumentals are key elements to any serious DJ's style.
[/one_half_last]

CONCLUSION

PHOTO PROPS: NOISEY
Together the duo's chemistry is undeniable. Lyrically Freddie Gibbs could be compared to greats like Tupac Shakur and The Notorious B.I.G. based on their ability to tell stories from an array of perspectives. From cutting up dope, hustling, and expressing the realities of street life to expressing pain, heartbreak and close friend fall-outs, the stories embedded in each track and how well they flow with the beats makes Piñata an instant classic. This album shone a light on what is missing in hip-hop music today.