In My Shoes ft. Layton Weedeman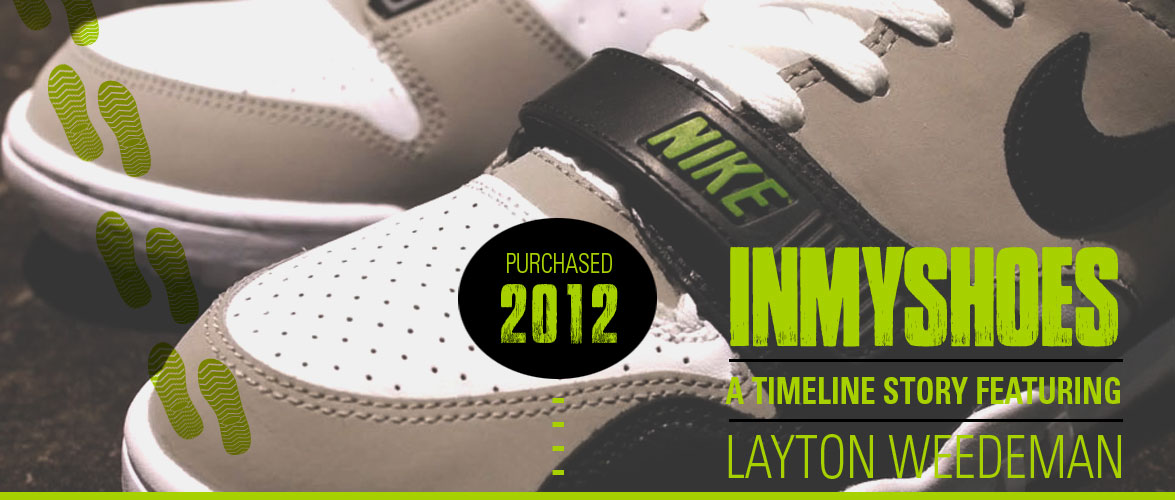 [one_half]
[/one_half]
[one_half_last]Lately, I've been more focused on hip-hop than ever before, because it's such a huge part of my musicality and creative output. In just a few months, I taught myself to beat match all of my records and learned how to blend each song into one another, making smooth transitions during my mixes. I booked my first gig at Pianos NYC in the L.E.S. back in February of this year, and needed to make sure my wears were crisp. I bought the Nike Air Trainer 1 sneakers at a shoe store on Broadway after only looking for about a minute, and immediately knew they were the right shoe for me.
Everywhere I went I wore these sneakers. It didn't matter what I was doing or where I was going. These were the only shoes I wanted to wear.  Even in wet and cold weather, I wore those sneakers like they were the only pair of shoes I had. I also got a lot of compliments about these sneakers from my peers and people I met.[/one_half_last]
[one_third]About a year and a half ago, in March of 2012, I  just returned home to New York from an extensive south-by-south-west (SXSW) tour through the east coast of the United States with my band and music comrades, Courtesy Tier. The minute we got back, we immediately started working on new music.
My band mate and longtime friend had been touring and writing as Dan Abraham for a few years at this point and it inspired me to start seriously exploring my own creativity as an artist. I always admired his voice and songwriting capabilities ever since we met back in 2001. Now hearing him create a sound that was truly his own, experimenting with guitar sounds, creating vocal effects, sampling, using drum machines, ambience, and synthesizers; it all really moved me.
[/one_third]
[two_third_last]
[/two_third_last]
[one_half]
[/one_half]
[one_half_last] I've always been a hip-hop head since I was a kid, back when my older cousin gave me my first cassette tapes of LL Cool J, Run DMC, and The Beastie Boys. When I was eight years old, my Mom let me get double lines buzzed in the side of my head and I would watch MC Hammer on MTV and teach myself how to dance the "The Running Man", which I'd consistently bust out at every wedding and school dance for years to come. And throughout the years, I would constantly be changing my foot attire for different looks and styles, including sneakers and dress shoes depending on my mood or what I was into at the time. I've also had two types of hair cuts throughout my life as well, depending on what type of music I was into, whether it be rock, hip-hop, funk, jazz, R&B, long hair, short hair, beard or clean shaven, I've always lived in the music that captivated me.
It was after returning home from tour and listening to Dan Abraham that I decided to do something I've always wanted to do…DJ. So, I ordered a beginners turntable and mixer from Amazon and started collecting vinyl. My vision as a DJ was to focus on hip-hop production from the 1990's and highlight my favorite joints from my childhood, most particularly the jazzy tones of A Tribe Called Quest, DJ Premier, Pete Rock, J Dilla, and The Roots.[/one_half_last]
Both feet control two metal pedals on a drumset, a kick drum pedal and a hi-hat pedal, and both pedals have a greasy chain attached to them that your shoes will rub against while you play. I play a lot. So much that the front of the sneakers started to get black and greasy. Once I started seeing these dope sneakers get dirty, it made me realize I need to own a second pair! Either way, I didn't care, and just kept wearing them and doing my thing.
[one_half]The night at the Pianos gig, I linked up with Artoholik founder, Iquan Worthington, who had been hanging out at the bar with some friends. After playing about 3 or 4 tracks of stuff he liked, he stopped what he was doing and came up to the DJ booth to talk to me. It was an instant bond based on music and selections.
[/one_half]
[one_half_last]
[/one_half_last]
From there, Iquan helped design my logo and launch my Laytonic brand, all while wearing the Air Trainer 1's. I booked more events, played more shows, wrote more music, developed my sound as a producer, started a new project called Man Made West, and got recruited to play drums and record with singer/songwriter Jessi Robertson.
[one_half]Fast forward to October 2013 for CMJ Music Marathon in NY, I'm back on stage with Courtesy Tier rocking out and performing in my sneakers, getting even more dirty and grease smudged. But it didn't stop me from doing my thing. Soon after, I traveled to Newark, NJ to Center Stage Cuts on Broad Street to DJ the Artoholiks Munny Social.


It was around this time, when holes started developing in the bottom of the soles and it prevented me from keeping dry socks while walking in rainy days. Now I need a new shoe and I'm contemplating purchasing the same ones or starting 2014 with a fresh look? Until then…[/one_half]
[one_half_last]
[/one_half_last]