Recap: Munny Social (August)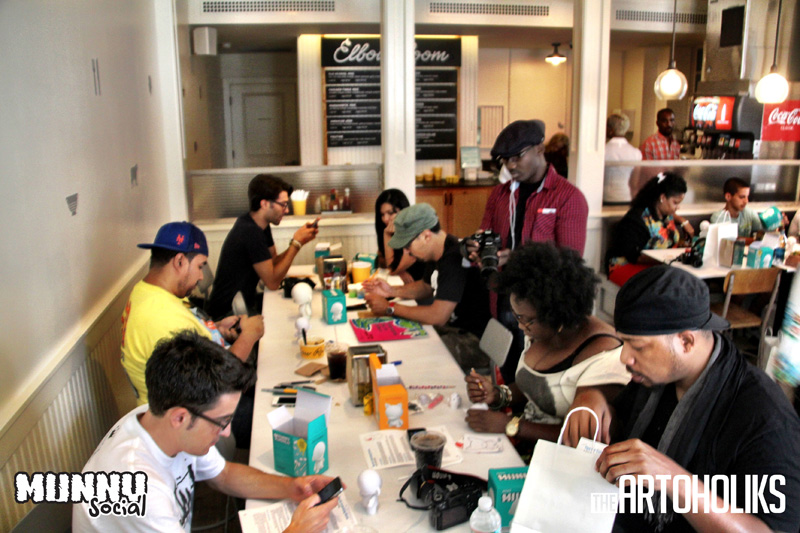 On August 25th in Downtown Newark at Elbowroom, 30+ Munny Lovers and Artoholiks met up to create, eat, chill and enjoy a niche event on a summer afternoon. Head Artoholik IquanW created this event to share a passion point that he discovered earlier this spring. Since he received a great response on his collection via the internet, Iquan decided to create an event in which he could physically show off his work, share tips and create a fun event for friends and local artists.
Starting at 1pm, guest arrived prepared with their tools and ideas for their custom Munny experience. Upon arrival, each guest was greeted with a bag that contained their Munny, a black Sharpie, Art is Dope buttons and stickers from Branded Baron. The process was simple… get your bag, name tag, and get stamped! Guests that RSVP'ed via Meetup or Eventbrite were stamped with the RED Artoholik Astroman, certifying them as an Artoholik. Guests who did not RSVP were welcomed and stamped with a BLACK Artoholik Astroman. Once guests received their name tag, they were directed to pass the name tag to the host from Elbow Room. The host then used the tag to complete attendees food order and bring guests their selection. In addition to being used to grab a bite, tags were also used for goodie bag drawings and photos. Goodie bags contained swag from Modern Amusement, Sprayground and Branded Baron.
Throughout the event, Artoholik AleeshaW ran giveaways, entertained guest with jokes and then put all artists on the spot by making them share their inspiration for their custom Munny. "The event turned out better than planed" said IquanW who had only 2 weeks to prep for the event. Between Aleesha and Iquan, they had to sell tickets, brand event, order supplies, connect with sponsors and partners and lastly, gather team. Speaking of event team, Laytonic provided the sounds for the afternoon while Guru documented the entire event via Photo and Video and then a last minute co-host Shirley jumped in to decorate and make every guest welcomed. "This is what the Artoholiks are about!" said AleeshaW.
Guests included local Artists Jerry Gant, Lauren Craig aka (Inafabworld), Forever Audacious, Hycide and Andres Jimenez. Munny Social was also blessed with very talented artists such as Steve Cancel, Joe Baron, Dominiqué la Reine and surprise attendees Steve Janowicz and Randy Smith. While Dominiqué la Reine had the best and most talked about Munny, Iquan's old high school buddy walked away with the best design award. We're working hard to get the 2nd Munny Social together, in the meantime enjoy these beautiful images whipped up by the Artoholiks own IquanW and Guru. Enjoy!